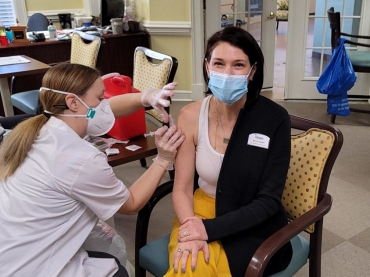 Sterling Estates Schedules COVID Vaccinations in Atlanta Metro Properties
Cobb and Fayette Communities Will Be First Senior Residences to Receive Inoculations
Residents, Healthcare Workers and Staff to Be Inoculated before Christmas
Marietta GA (December 23, 2020) – Senior living community owner and operator Sterling Estates has received a shipment of the COVID-19 vaccine and has scheduled vaccinations of residents, healthcare workers and staff in all three of its Georgia properties. On Thursday, December 24, medical staff, working with Transitional Care Physicians of America and Guardian Pharmacy will administer the first vaccinations at Sterling Estates of East Cobb (4220 Lower Roswell Road, Marietta, Georgia 30068), Sterling Estates of West Cobb (3165 Dallas Highway, Marietta, Georgia 30064) and Azalea Estates of Fayetteville (105 Autumn Glen Circle, Fayetteville, Georgia 30215). Sterling Estates applied for and was designated a tier one distribution center for COVID-19 vaccinations, and will be the first senior living communities in Metro Atlanta to inoculate residents and staff.
"The COVID-19 pandemic has presented significant safety and health challenges worldwide, but more so to our senior population," said Sterling Estates Vice President of Operations and Partner Nathan Madigan. "Our senior residents are at a much higher risk of catching the coronavirus and getting seriously sick or dying from it than the general population, so it was important for us to secure a shipment of COVID vaccine and inoculate our residents and caregivers as soon as possible."
"Tomorrow is a big step for our communities, residents and staff, and a testament to our strong partnerships that we will be at the leading edge of providing this life-saving service to those who need it most," continued Madigan.
The trained medical personnel will administer the vaccinations at East Cobb first using the Moderna COVID-19 vaccine, then proceed to West Cobb and then Fayetteville. This will be the first of the required two doses; the second dose will be administered sometime in late January 2021, after the required twenty-eight days from the first inoculation.
"We have prioritized the inoculation schedule so our residents and staff will receive the first dose before Christmas," said Madigan. "We can't think of a better holiday gift for our residents' health and safety in the New Year."